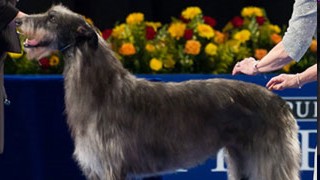 The 135th Westminster Kennel Club Dog Show was Hickory, the Scottish Deerhound. What a specimen the show judge said "it's exactly the same like I studied in breed standard..150 years ago".
The show kicked off with the Sporting group. Pointer, Curly Coated Retriever,, Black Cocker Spaniel, German Wirehaired Pinter, English Springer Spaniel, Wirehaired Pointing Griffon, Weimaraner. Top four were Irish Setter, Wirehaired pointing Griffon, Black Cocker Spaniel, Irish Water Spaniel.
Working breeds next…Alskaen Malamute, Doberman Pincher, Boxer, Portuguese Water Dog, Kuvasz, Samoyed and Rottweiler. Top four were…Portuguese Water Dog, Boxer, Kuvasz and Samoyed.
Last group, Terriers..breeds at the top were, Smooth For Terrier, American Staffordshire, Irish Terrier, Norwich Terrier, Norfolk Terrier, Seelyham Terrier, Sky Terrier and West Highland Terrier. Top four…Norfolk, Smooth Fox, the Sky adn the Westie.
Best in Show group was the Scottish Deerhound, Pekingese, shar-pei, Bearded Collie, Black Cocker Spaniel, Portuguese Water Dog, and the Smooth Fox.
It's the first win for the Deerhound…Congrats  Hickory. Go get that steak….