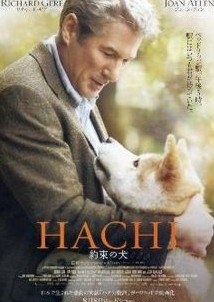 Hachi- A Tale of a Dog
A fabulous tale of one dogs life story and his eminent loyalty to his owner.  An Akita with faith and devotion to be with his owner right till the very end, a story of bravery, Hachi never gave up hope that one day he would be with his companion again. This movie was a heart wrenching film that reveals to us how our pets genuinely suffer after we pass away. But do we really know just how it affects them?
My mother and her Maltese companion, were together for 10 dedicated years, until one day she left for a dancing competition and never returned home. Fred experienced great grief and knew something was wrong  before we knew. He lived 1 month after her and died from a broken heart.
Dog's loyalty is just unexplained and unbelievable. We can't fully communicate with dogs, but dogs can tell us if we have cancer, a particular health condition or just plainly out of sorts. If dogs could talk, they would tell us.." hey stay home today because your are sick and I don't want to loose you" .
Hachi is quite a story…he waited nine years at the train station for his master to return. He wouldn't have any other master.  You might want to think hard and long about giving your dog away for adoption. Re-think why you are doing this and how much joy your dog gives you. Certain situations in life may lead you to not have any choice in the matter, but think about what you are doing. Your dog has a soul, a heart and loves you.
Today, a statue is erected at the train station of Hachi as remembrance and symbolism of loyalty and honor.