A Peaceful rest after a long day.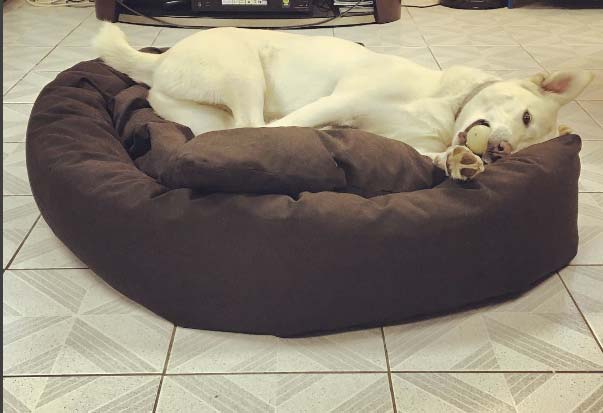 Every owner knows the feeling of unconditional love a dog will give from the moment they come into your life, and most importantly your heart. No matter how 'ruff' your day may have been your canine companion will always be waiting to make it better. Large breed owners experience that love and also the unintentional 'accidents of affection' from something as simple as an excited tail effortlessly clearing everything off your table, shelf, and well any surface in reach. Since collateral damage is inevitable for our large and extra-large pups, it's a good idea to make general costs associated with your dog an investment not money friendly, temporary solutions.
Here at Mammoth Outlet, we understand the importance of knowing the unique demands of all dog types and have dedicated over 20 years to developmental research for our products. A collaborative research study by Dotson and Hyatt concluded that annual household budget for one dog, excluding medical costs, was an approximate $1000.00 USD average. However, owners of big dogs have more than likely come to know that prices seem to hike up with products needed for their furry pal. Especially when considering the common circumstance that larger dog breeds experience a much quicker growth rate compared to small or medium size breeds. In other words, your pup will likely go from pint size to plus size in the blink of an eye.
For instance, a Bernese mountain dog can be 24-pounds by just 10 weeks and then continue to grow almost 4-pounds a week for the first few months. By the time a Berner pup is only 8 months old it will be close to 100-pounds, with males very likely to weigh even more. Astonishing growth like a Bernese has should only shock their owner's eyes and not their wallets, which helped with the inspiration for our collection of large dog beds. The heavier weight of these pups can exacerbate health issues so a Mammoth Outlet brand orthopedic dog bed will not only provide comfort during the rapid growth phase but give essential support, since they are high risk for developing medical conditions such as Osteochondritis. Every owner wants to make sure their canine companion is properly taken care of from the moment they enter your life, and investing in a small purchase with long-term benefits is great place to start. Especially since all dogs, big and small, are known to be very sentimental, having their first bed potentially last lifetime will not go unappreciated.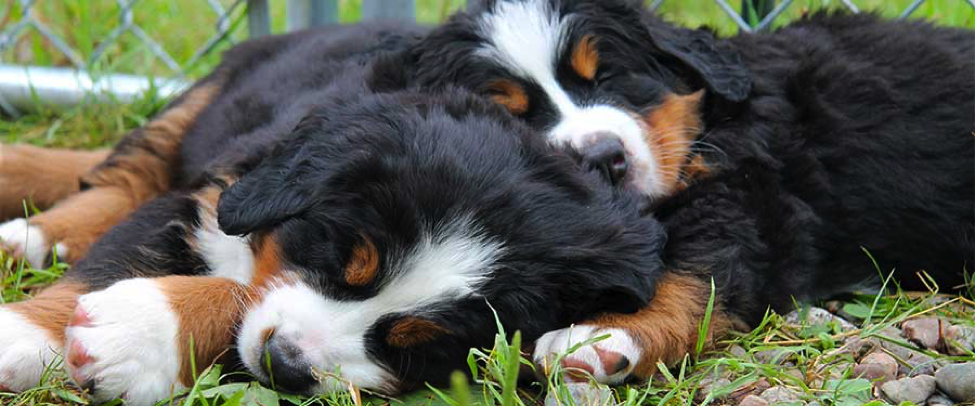 Even a teething pup, usually able to tear through anything put in front of them with ease, will be no match for the quality assured Mammoth Outlet dog beds. From muddy paws to slobbery night sleeps, these beds are more than capable of keeping up with any dog's daily wear and tear. The cover used for the Mammoth brand is industrial strength canvas, made out of cotton and polyester stitched together using the highest quality poly thread. Special hypo-allergenic material is used for the filling of each of our dog beds and is made from non-balling high-memory upholstery fiber. In other words, let your pup tussle 'til their tuckered! Quality is key for creating a great product, which is why we make sure to incorporate that as a key factor in the manufacturing of all Mammoth brand products.
With quality reassurance for ease of mind you won't have to second guess what to do when you notice your furry friend's dog bed looks like it could use a refresh, cleaning is as easy as a toss in the washing machine so it can be returned to its special spot no time. Plus the bonus of knowing you will never have to worry about the bed shrinking after being washed, making it no question that these are the best extra large dog beds for any big breed owner to invest in. While you revel the excitement of worry free washing just try not forget to bring that extra special dog bed back to your dog's specific spot. After all, we know our dogs are as sentimental as they are loving, so it's important to remember they become accustom to where their unique place is to find their bed. Our home is likely our dog's home, but even our canine family members need to have a safe space all their own.
Whether you are a new or experienced dog owner, looking into the new and different product options available to properly care for your dog is always a good idea. Especially when caring for larger breeds that will have special and usually imperative care needs to make sure they can live the happiest and longest life possible. Starting with an orthopedic Mammoth brand dog bed will be best way to ensure the perfect rest for your canine pals' perfect future.