Sweet, Devoted, and Patient: Spotlight On The Newfoundland Dog
The Newfoundland is a great, strong dog breed lovingly named after the Canadian province where many were used as working dogs to pull nets for fishermen, or to haul timber across large expanses of terrain. They made for the ideal working dog because they were so trainable, and fostered close bonds with their human companions. They were also used as rescue dogs as they possessed natural life-saving instincts.
Though modern-day families are not as likely to use their Newfoundland to help them with labour around the house, many will appreciate the sheer devotion this breed is capable of. Newfoundland dogs are recognized by the American Kennel Club for being sweet-natured, friendly, and highly responsive to commands, making for good family dogs. This is especially true for those living out in the country (who can give them adequate space to run). There is never a dull moment with these gentle, almost bear-like canines.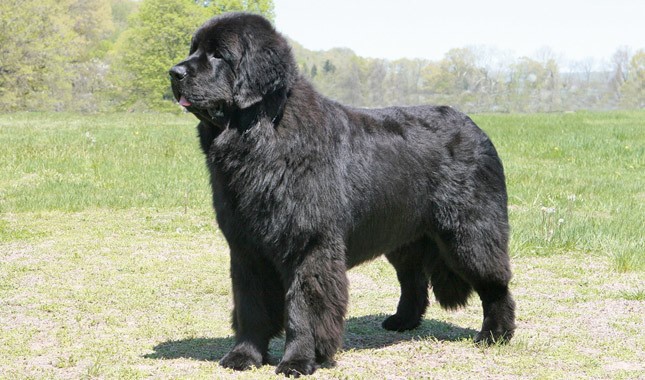 Like all large breeds however, these dogs are unfortunately prone to developing health issues that can become serious if not treated. Some of these include hip and elbow dysplasia which are common joint diseases causing great pain. They can be inherited as if breeders are not careful, or if they're unaware of the parents' lineage or history. Typically, you won't see the onset of these conditions until your Newfoundland reaches old age. Sometimes they are preventable if caution is taken throughout your pup's life.
If your Newfoundland is regularly sleeping on the hard floor, or on an unsupported surface, it puts unnecessary strain on their bones and joints. To protect your dog against potential skeletal issues in the future, you must find a solution that will cushion and support the natural curvature of your dog's body, offering them comfort as they recuperate from a walk or run.
Our Mammoth extra large dog beds were designed specifically to accommodate the needs of large breeds. We are a leading orthopedic dog bed provider, and recommended by veterinarians across North America. Composed of a removable gigantic inner pillow for travel, and a cozy ring for support, the breed-specific extra-large beds we offer will provide your Newfoundland with a perfect place to sleep or rest, while actively working to realign their body and prevent abnormalities from developing. The specially engineered filling is made from a non-clumping, hypoallergenic, high-memory virgin industrial fiber fill, that is guaranteed to last your dog's lifetime without collapsing. Furthermore, the bed's covers remove easily with a convenient and trouble-free Velcro seal, located on both the pillow and outer ring (making machine washing quick and simple).
The suggested size for a mature Newfoundlander is the Extra Extra Large dog bed for large dogs. It offers ample space and a non-flattening orthopedic density foam mattress for Newfs that grow to breed specific size.
If your Newfoundland frequents the outdoors, the entire bed is completely machine washable, but it also helps that it is hypoallergenic, as well as mold-, mildew-, and stain-resistant. Mammoth beds can also fit into any décor, as you can choose from a wide selection of upholstery grade fabrics such as industrial strength canvas, denims, or soft microvelvets in a variety of colors. Only the highest quality thread is used on the covers to create a professional double serge for added strength.
The Newfoundland is a special breed beloved by many for how naturally social, and pleasant they can be. Ensure this happy disposition follows your Newfoundland into old age by providing them with the comfort and security of a Mammoth orthopedic dog bed, keeping them healthy for years to come.