Make For An ideal Road Trip This New Year With A Mammoth
You've just introduced a rambunctious little canine into your family, an early present from a loved one who innocently forgot to consider the amount of travelling you'll both be doing across far distances (for the many dinners you'll be taking part in) this new year! You don't want to leave your new favourite pet with a stranger just as they are getting to know you, besides there's plenty of room in the back seat for his crate, or for him to lounge on the drive to meet your family.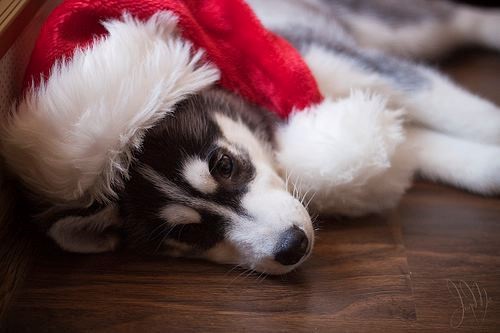 As we know, puppies provide extra excitement in any given situation, especially when they enter new surroundings. Mammoth pet beds and dog blankets are the perfect element of comfort and security you can provide for your dog on that long trip, something familiar, portable, comfortable, and advantageous to their health. Let your dog's first new year gift be one that will provide support for their bones and joints as they grow, and maximum comfort for resting and sleep.
These flexible and adaptable pet beds are great for your dog's crate or room, the living room, the kitchen, your car or SUV, and can fit up to four dogs! These mats come standard with high density orthopedic foam or can be upgraded to memory foam. The covers of these mats remove easily, and the bed is protected by a polypropylene liner, upholstery canvas, and denim to ensure your investment lasts through those unpredictable puppy years.
If your little friend needs some extra warmth, you can upgrade to a bed made with Sherpa on one side of the mattress – keeping him toasty all winter long. These beds are also especially designed to elevate any dog, large or small, off the ground so they will support your pup throughout his life.
For something that offers a universal dog bed , consider purchasing Mammoth's dog blanket – it is made from the same material as our dog beds and is great for added protection to your car seats or couch as your puppy is trained. They come in a variety of solid colours to fit your décor, and you may order a blanket with faux fur on one side if that suits your fancy. The blanket may also be used as a comfy play area and bed combination for optimum comfort.
Since 1995 we, here at Mammoth, have been researching dog behaviours and physiology, developing a product that reduces stress, and ensures cushioning. If you have a large breed dog, we've discovered that these sizes need the most support so we have developed a variety of extra large beds to choose from.
Whether your pup is snoozing on the car ride, lounging by the dinner table, or cuddling up by the youngsters on the couch to join them for a great movie – rest assured that he will not only feel secure with his Mammoth coming along for the trip, but that it will maintain his physical health early on. You can also feel assured you'll be protecting your aunt's new sofa from your pup relieving himself from the excitement. Trust Mammoth to provide the most relaxing of winter road trips by purchasing an orthopedic dog bed or blanket today.