Outdoor Fun at the Cottage Can Be Hassle-Free for Dog Owners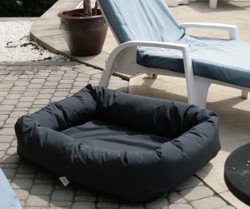 The closest thing to paradise is a gorgeous day at the lakeside cottage or campsite with the picnic basket nearby and the family dog swimming freely under the blue sky…right? Of course, this is the summery dreamland dog lovers want to live in all year long! This image is why you purchase the cottage, do the yearly maintenance, plan out the packing, and take the long drives up and down the highway. The last things to appear in that picture-perfect postcard are dirty towels, muddy floors, and a dripping wet dog on the furniture.
If you think those pesky clean ups are just an inevitable part of cottaging, think again! When you get a Mammoth dog bed designed specifically by our manufacturers for the outdoors, you'll never have to wonder how to care for your loving (but wet and muddy) dog again. After he gets in and out of the lake a dozen times, don't send your dog inside to dirty your floors and furniture. Don't send him into the bathtub for a labour-intensive scrubbing, either. Your dog can rest on the porch or by the pool in a bed made of the most durable and resilient ballistic nylon, which won't tear or break down over time.
Our Mammoth outdoor dog beds are made out of quality waterproof and high-memory fiber fill, which means that your pup will be snug and comfortable while drying off and resting. Because it dries fast, the bed will never take on that water-laden, musty fabric smell, and it can be left outside until you're ready to remove the cover and throw it in the washing machine and dryer. The only thing to watch out for, on rainy days, is a puddle of water accumulating inside the bed for prolonged periods of time. This needs to be emptied out for it to dry properly. On weekends when some dried mud and grass have accumulated in the bed, you can hose it down and leave it out to dry, cutting down on the time spent and electricity usage.
Best of all, if you have an older dog with hip dysplasia, joint problems, or aching muscles, he can be just as comfortable and pain-free outdoors, spending with the family, as he would be inside. Instead of laying on the wooden deck or the ground, your dog can enjoy the structure and support of one of our foam beds, made specifically because we know what it's like to want to take the best care of aging dogs.
Our website offers a superior selection process with tons of variety, so that you can be sure you're getting the bed that works best for your dog's breed, size, and weight. Because they're soft and malleable, the beds are also easy to transport—meaning that you just need one for all your summer activities, and you can throw it in the trunk to take with you wherever you go. Rest assured knowing that our product is the best all around support you can offer your beloved pet—it's made in America, and made to last.