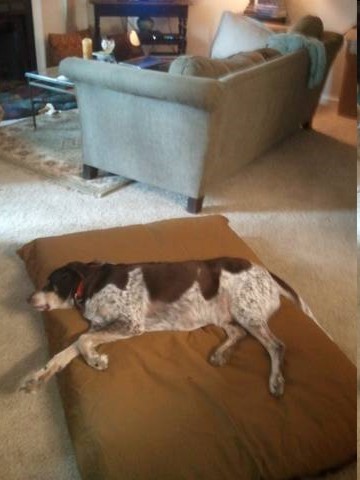 Thought I would post this picture and customer comment from a mammothoutlet.com wonderful happy customer.
My GSP Dexter just received his XXL Mammoth dog bed yesterday and he COULD NOT be happier. He is very spoiled on sleeping on the sofa and our beds so I was very worried whether he would like it. I got the XXL, which was probably overkill, but he likes to stretch waaaaaay out. Because I want to reclaim the sofa, I wanted to get him a VERY good bed, and I could not be happier. He is elderly and has arthritis problems, so the fact that he's voluntarily choosing the Mammoth bed must mean he finds it very comfortable and supportive. I did a good bit of research before buying this bed, and I feel that it's an excellent product at a very competitive price. Dexter and I thank you!
Martha Stevens
I take it it's a like….Thank you for your comment. Keep sending them in. You can find this
extra extra large pet bed
on mammothoutlet.com.