You want your pet, and family friend to be comfortable & happy. Choosing Mammoth dog beds ensures their optimum comfort on a bed that's easy to maintain and clean for years to come! On that note, we know it is important to you to keep your dog's bed clean. Just like human furniture, the dog's bed must be maintained in order to prolong its lifespan and keep it looking like new. So we have some friendly tips to get you started on maintaining your new Mammoth dog bed.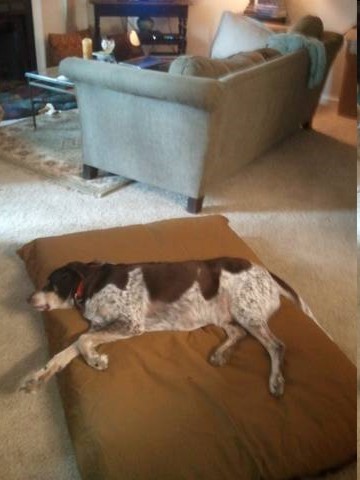 Vacuuming
One of the most basic and yet most regular things you can do to keep your dog's bed clean is to regularly vacuum it. Performing this chore is the frontline of home defense when you have a dog. After all, no matter how short their fur is, every dog will shed. It's up to you to make sure the floor and all the pieces of furniture are free of lost fur. This same practice applies with vacuuming the dog bed. Think of it as like changing the sheets. It's a positive step to maintaining your new dog bed, and your dog's health.
General Washing Guidelines
Washing is another necessity when it comes to keeping a dog bed clean. There are several different ways you can wash the bed but the same basic rules do apply. You want to wash the bed on a large load setting, using only cold water. While you can use regular detergent, there are pet bed-specific formulas available on the market which we recommend that you use to wash the bed.
Washing Your Dog Bed
The most common way of washing the bed is by simply removing the fabric cover and running it through the machine. This is the go-to method for many pet owners who don't experience a lot of shedding problems from their dogs. It does allow the bed to be ready for use much faster than washing the whole bed together.
If you are able to wash both base and cover together, set your washing machine on heavy duty for a large load. Otherwise, wash them in separate loads. This will make sure you are getting a thorough clean of your pet's bed.
Drying
Drying is not quite as specific as washing is. Our Mammoth dog beds are all built capable of machine washing and drying! We suggest you use a dryer sheet to suppress any static build up. Otherwise, place in the dryer and you're finished! Make sure the heat setting is on normal and not high heat. The more air you can give the bed, the newer it will be. Give it time to dry and treat it like a wool sweater by setting the cycle on gentle.
Lint Rollers
A lint roller can help manage pet hair, as well. Though it does take a lot more time than vacuuming and washing, a lint roller can allow you to do daily checks on the build-up of fur.
Following these tips will allow you to keep your dog's bed comfortable, attractive, and allergy-free. Your dog will be happier and the bed will last a lifetime. We only use quality furniture grade material in the construction of every bed.
Good-night.