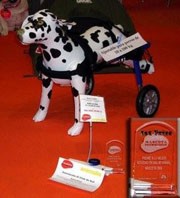 The Walkin' Wheels™ for Handicapped Pets received the award for Best Innovation in the Category of Animal Health and Integration of Pets in Society at the Mascota Pet Show that was held last month in Barcelona, Spain.  Mascota is Spain's top trade fair for pets that attracts thousands of manufacturers, distributors, salespeople, veterinarians and animal lovers.
This prestigious national award, which was sponsored by the Spanish Small Animals Veterinary Association, recognizes the quality, the role played by research, and the originality of products and accessories for pets.
"We are so honored to have received this award because it respresents our commitment to supporting the human-animal bond in the United States and throughout the world by providing a product that enables pets and people to maintain a high quality of life," commented Mark C. Robinson, President of HandicappedPets.com and inventor of the Walkin' Wheels.
The Walkin' Wheels dog wheelchair was on display at Mascota with El Club de Kat Association – Kat's Club for Disabled Pets in Spain.