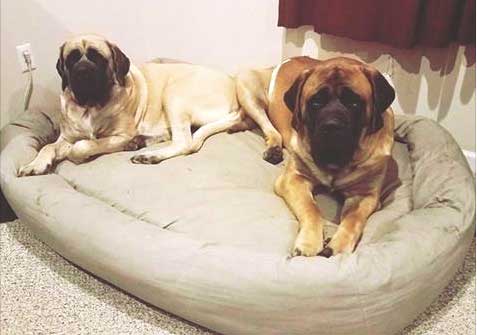 A one-time price of $149.99 will be added to your order.

10000000
Description
More Info
Color Chart
Reviews (8)
Mastiff Dog Bed
Whether it is the English Mastiff, Bullmastiff, Neopolitan Mastiff, Tibetan Mastiff or Cane Corso Mastiff, this bed was made for the Mastiff breed. And for the giant Mastiff who reaches larger height and weight, the extra extra large 72 inch x 55 inch was created for their extra large needs. added support, you can also upgrade to the memory foam mattress, which provides added comfort for your Mastiff's joints.

Mammoth beds were specifically designed for the Mastiff in mind, made durable while providing superior support. Composed of a removable gigantic orthopedic foam mattress for travel, and a cozy ring for support. The covers remove easily with a trouble free Velcro seal, located on both the mattress and outer ring. Our specially engineered filling is made from a non-clumping, hypo- allergenic, high memory virgin industrial fiber fill. Which offers orthopedic and long-lasting qualities on the bolster, and is 100% machine washable.

Choose from an industrial strength upholstery canvas, denims and microvelvets which are a polyester/cotton construction. The upholstery grade material is made to withstand the daily wear and tear of your Mastiff, and looks better with every wash. Only the highest quality thread is used to create a professional double serge for added strength. Don't settle for less. When it comes to superior quality, no other bed compares to a Mammoth, for your Mastiff.

Order yours today!

We guarantee you will want a second.
8 Reviews for Mastiff Dog Bed
AMAZING BED - BUYING OUR 2ND - Thursday, December 3, 2020

I have been very pleased with how well the quality of this bed has remained. Although we haven't had it long the first we purchased was for our 6-8yr old (rescued) mastiff who now weighs 145lbs. The primary use for the first bed was for his crate bed which he tends to paw at and chew at when he's upset with being crated (while we\'re not home) so the 2nd bed we just purchased will be his EVERY day/night sleeping bed to help provide comfort that we believe he needs and that quality as previous beds (from amazon) have not done so well at providing that quality touch.

The customer support is very helpful as well as I went into it thinking I would be talking to some robot but in fact got much needed info from previous purchase I was unable to track down my self.

Large enough for 2 - Thursday, March 14, 2019

We bought the XXL for our 2 Mastiffs Winnie and Pooh. As you can see from the pic, they have plenty of space. I got the Olive color in the Microvelvet fabric and it is so easy to clean. They shed profusely and the hairs just wipe right off and the drool doesn't show either. I think I will get a second for our upstairs bedroom so I don't have to lug the bed up and down the stairs every night.

The Best - Friday, November 23, 2018

We've had the XXL Mastiff bed for almost 10 years now. The 1st mastiff it was purchased for was 210 lbs. He used and loved it regularly for 4 years. Next in line for the bed was a new American Mastiff male that adopted it within moments of arriving at his new home! It was the best ever to see that little thing in the middle of that great big bed but he now averages 180-185 and shares it with his best friend, a 130lb female American Mastiff. My boy is almost 6 now and has been much harder on the bed having grown up in it and all. He was quite the chewer as a pup too! There is not a single rip or tear in this bed anywhere. It's burgundy color has faded a bit over the years and washes but still looks good. It is about the size of a twin size bed and, due to the velcro closures, i can manage to wash & assemble it alone. I bought a crate pad for my girl when she was a pup and it was wonderful! easy to clean & very sturdy. I've also bought two smaller beds, the XL Mastiff & a 3 sided bolster style in hopes to reclaim some floor space and replace the old bed as they don't use the whole bed when they lying in it. It is HUGE. I am here today because my male REFUSES to sleep in one of the new beds. I have been able to feel the floor through the mattress of the old bed for the past year. It has taken a lot of dog to break this mattress down! For the price it is hard to imagine i got 9 solid years without ever feeling the floor while sitting on this mattress & even now it feels better than most new in the pet stores today. it was not the upgraded memory foam either....and yes, I've sat & laid in the bed with them often. It is plenty big enough for all of us.

Washes well - Wednesday, January 3, 2018

We purchased a bolster bed (2 canvas covers) for our Mastiff about a year and a half ago and have been deligent about washing the covers and they have held up really well.

Superb Quality - Saturday, July 2, 2016

I have 3 Mastiffs, a Boxer and a mix, and I own 2 of the Super Mats and 3 XL Mats. The construction and quality are superb and adding the handles on the side was a great idea. All of the dogs switch out on the beds during the night, and it's common to find 2 of my Mastiffs sharing one Super Mat in the morning. (They really are that big!) The velcro closures make for easy removal and washing, and I don't have to worry about the dogs tearing up the zippers to get to the insides. They have never even tried to tear one up!! Thank-you so much for making such wonderful beds for my big babies.

Does NOT Flatten! - Friday, July 1, 2016

I have had my mammoth bed for 3 years now, and it is still in the same shape as when I got it. We all have had beds that flatten over time and this one DOES NOT. I have a Mastiff, and if any dog would flatten a bed over time, he would. It is still the same fullness as the day I got it. It is all completely washable and the material is so durable. Whoever invented this dog bed, THANK YOU!

Vet Recommended! - Friday, July 1, 2016

I just received a XL Oblong dog bed for my 150lb English Mastiff. Oh my word. My dog won't get out of it. My vet advised me to get a bed from you guys,because of your quality,and she wasnt joking. All I have to say is thank you Mamouth Dog Beds. I'll be a repeat customer no questions asked.

Scratchers - Friday, July 1, 2016

I have spent a fortune on mattresses, blankets, dog beds, love seats, the list goes on and on!! LOL I have 5 Great Danes and 1 Mastiff. They love their new beds! 2 of these guys are "scratchers", love to dig into their beds. The Mammoth bed stands up no problems. They all watch for the current occupant to get up so they can take possession of the bed. I ordered 2, to give them a try. Now have ordered the pads for their crates and will order the additional beds as my budget will allow. It is a great deal, and I am not complaining about the cost. I have never had anything stand up to my crew before. I highly recommend these beds. Will let you know about the crate mats.
Submitting Your Review, Please Wait

Your Review Has Been Submitted Successfully
Add a review for Mastiff Dog Bed
You must include a title, rating, and message in your review.

Your Review Title

Your Rating

Your Review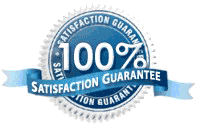 Providing quality for over 20 years

12 – 38oz USA upholstery fabrics

Virgin high memory upholstery fiber

Removable / reversible cushion

Removable covers

Easy Velcro system

Antibacterial

Stain resistant

100% machine wash/dryable

Anti odor fabric protector

Soft and moldable

Orthopedic qualities

Easily transportable

Can fit into any decor

Made in America

Knowledge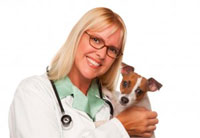 Mammoth is the recommended brand by American Veterinarians.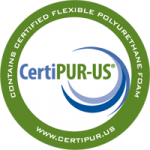 CertiPUR-US™ certified for quality, durability and product safety.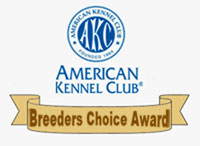 AKC and breeders approve our products for our durability, ease of cleanliness, long term usage and comfort.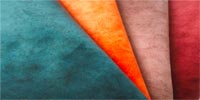 Durable fabrics with an industrial rating of up to 50,000 double rubs. Our fabrics are used on applications such as aviation, restaurant seating and furniture.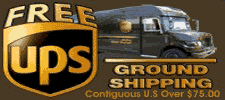 Get FREE UPS shipping to 48 contiguous states. We also ship USPS.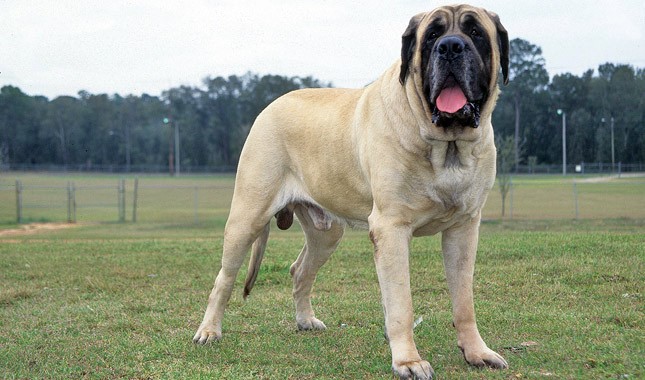 Origin Of Mastiff
The Mastiff dates back as early as 1121 BC. They were originally bred as a combat dog, both for guarding troops and fighting alongside them. They were also used as gladiator dogs in the Roman Coliseum as guardians of people and their property. They have been known to fight off Bulls, Bears, Boars, Lions and Tigers. They appeared in dog shows in the mid-1800's by the wealthy London England who recorded pedigrees. The modern day Mastiff still sticks to its original roots and is a born guard dog. You do not need to train your Mastiff to guard. No matter how friendly it is, If a Mastiff senses danger it will naturally guard on its own. The Mastiff rarely barks, but it will naturally defend its territory and family, and is more a silent guard dog rather than a barker. When an intruder is caught the dog is more likely to hold them at bay, until their owner gives the ok, by trapping them in a corner or lying on top of them rather than an all-out attack.
Temperament
They are one of the gentle giant breeds. Self-confident and watchful, these dogs are patient and nurturing and are considered excellent with children. They are intelligent, calm, even-tempered and docile, this breed is very large and protective of it's family. Slightly stubborn but peaceful at heart.
Size
Males – stand 26-31 inches
Females – stand 24-29 inches
Weight
Males- Average 150-190lbs
Females- 110-175lbs
Fun Facts
Beasley, the lead actor that played Hooch in the movie "Turner and Hooch" was a Dogue De Bordeaux, otherwise know as the French Mastiff or Bordeaux Mastiff. His career started at the ripe old age of 10, it was his first and only Hollywood movie. The drool used in the film was real, no graphics were required.
Training Tips
Socializing early is key to developing your Mastiff's temperament ideally before 12 weeks of age. They should be exposed to different people, with umbrellas, hats, scarves. These different experiences will serve as new opportunities for your puppy to fully develop into a mature manageable, confident dog. One who hasn't had proper socialization can lead to a shy Mastiff. This can be a real problem, as they can lash out if nervous or cornered in an unthreatening environment. You want to instill bravery in your pup for development into a strong confident dog. When training your pet, let him know your status as the pack leader. Consistency in training is key. The Mastiff feels useful protecting his family, and takes this job seriously, always reward good behavior.
Stories
We always love to hear stories about your Mastiff, share a tale with us.